16 September 2018 - 23 September 2018
USA Tryon International Equestrian Center

Startlisten / Starting Orders
Startlisten / Starting Orders

Ergebnisse / Results
Ergebnisse / Results
- FINALRESULTAT ABC | FINALRESULTAT ABC TEAM
- HINDERNISFAHREN: RESULTAT C
- AB: RESULTAT AB | RESULTAT AB TEAM 
  Official Decision from thre Ground Jury
- MARATHON: RESULTAT B 
- DRESSUR: RESULTAT A | RESULTAT A TEAM 

Pläne / Plans
Pläne / Plans
 FEI Course Designer Richard Nicoll USA

Bericht / Report
Bericht / Report
- Horseinspection Alle Pferde "Fit to compete"!
- Driving - alle Nationen @ WEG

Medien / Media
Medien / Media
Tolle Fotos von Tomas Holcbecher

Driving Team Germany @ WEG Backstage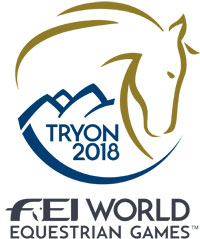 About the Tryon International Equestrian Center
Tryon International Equestrian Center at Tryon Resort, host of the FEI World Equestrian Games™ Tryon 2018, is one of the world's premier equestrian lifestyle destinations. From carousel to competition, the mission of Tryon Resort is to celebrate the magic of the horse, grow equestrian sport, and increase access to this majestic animal. With first-class facilities for hunter/jumper, dressage, and eventing competitions, the facility will soon accommodate all eight equestrian disciplines. Tryon Resort is a spring, summer and fall haven for equestrian competitors and enthusiasts, and a year-round destination for connoisseurs of diverse cuisine and shopping, lodging getaways, and family entertainment. Learn more at 
www.Tryon.com
.
About FEI World Equestrian Games™
The FEI World Equestrian Games™, held every four years in the middle of the Olympic cycle, is the property of the Fédération Equestre Internationale (FEI), the world governing body for horse sport recognised by the International Olympic Committee (IOC). It is one of the biggest events on the global sporting calendar, combining World Championships in the Olympic disciplines of Jumping, Dressage and Eventing, the Paralympic discipline of Para-Equestrian Dressage, as well as Driving, Endurance, Vaulting and Reining.
The inaugural FEI World Equestrian Games™ were hosted in Stockholm (SWE) in 1990. Since then the Games have been staged in The Hague (NED) in 1994, Rome (ITA) in 1998, Jerez (ESP) in 2002, and Aachen (GER) in 2006. The first Games to be organised outside Europe were the Alltech FEI World Equestrian Games™ in Kentucky (USA) 2010. The Games came back to Europe for the 2014 edition, the Alltech FEI World Equestrian Games™ in Normandy (FRA), which attracted more than 500,000 on-site spectators and a worldwide television audience of 350 million, as well as delivering an economic impact of €368 million to the French economy.
The FEI World Equestrian Games™ History Hub can be viewed 
here
.