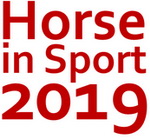 International Equestrian Congress - Horse in Sport
March 1-3, 2019
Šamorín, Slovakia
Be part of it #horseinsport
Timetable
Horse in Sport... The basic idea behind the annual International Equestrian Congress. Horse in Sport is to bring together people with a passion for horses.
On the first weekend of March 2019, Hippoevent organizes this international event at the x-bionic® sphere Resort in Šamorín, Slovakia.
Workshops & FEI courses & more...
With an exciting selection of lectures and practical demonstrations in the Open Workshops, as well as official FEI courses for international Judges, Course Designers, Technical Delegates and Driving Stewards, Horse in Sport will be a symbiosis of various stakeholders… Equestrian athletes, Organizers, FEI Officials who shape the sport, as well as Breeders, Horse Fans, Media representatives, Sports marketing experts and more.
Getting together interesting information and insights, experiencing news, as well as discussions and talks with input from different perspectives, lead to this, which should enable all participants to take home positive impulses for their individual roles in dealing with horses.
2 Main topics at the Open Workshops Sunday, March 3rd, in lectures, presentations and practical demonstrations:
Workshop 1
What to do if something happens?
Accident management…acting well in accidents and in crisis situations with horses during an equestrian event
Theoretical and practical demonstration & panel discussion
Nobody wants an accident. Nevertheless - accidents happen in connection with our sports partners, the horses. It can hit us all... being involved in an accident with a horse, during an equestrian competition.
Since every crisis situation requires a cool head, it helps to deal with the situation in advance.
Workshop 2
Bring the sport to the people!
The success @ Longines FEI European Championships Gothenburg 2017 - is this the future of Equestrian events?
Presentation & panel discussion
Driving @ Longines FEI European Championships Gothenburg, Sweden, 2017
"At Horse in Sport 2019, I will give you an inspiring presentation of my journey of being responsible for the Driving at this amazing event", says Karin Mårlind Strauss, Representative of the OC ECH Gothenburg.
Detailed information about the Workshops 2019 → LINK
To meet with Horse People from all over the world, at an event in a top location, with as much future potential as the x-bionic® sphere, makes Horse in Sport one of the networking events of the year, and for all those interested in "Place to be".
Horse in Sport will be held for the second time in 2019 at the x-bionic® sphere Resort in Šamorín, Slovakia, which was created with the idea of offering the best conditions for everyone. And these are guaranteed in the modern Congress Centre, the exclusive Hotel, the various restaurants and coffee bars, all compactly accessible with just a few steps.
Ideal for equestrian sports in all disciplines, and as part of this practical modules event, there is no better place to be found than the x-bionic® equestrian sphere - one of the largest and most modern equestrian centres in the world – a place where enthusiasm and excitement come together the true love of horses is felt.
Hello, Driving sport ...in 2019, the first international Driving competition will take place from 26th to 28th July in Šamorín during the popular x-bionic® Summer Tour. The best 8 Four-in-Hand drivers in the world have already confirmed their participation.
The x-bionic® sphere in Šamorín can be reached centrally via Bratislava, Vienna or Budapest. The international airports - Vienna and Bratislava - offer pleasant arrival conditions from all over the world. For the congress participants a shuttle service is available.
The program in detail, all information, as well as the registration forms, are available in the HIS-Online-Event-Centre → LINK
This event is recognized by several Federations and Associations as continuing education - please contact the relevant departments.
If we can be of any further assistance, please let us know.
We are pleased to welcome You @ International Equestrian Congress - Horse in Sport 2019.
Take a look...
...and take a look back to FEI Courses @ Horse in Sport 2018
HIS 2018